I had my rough manuscript and dummy book. Before I started to draw a comprehensible version of the dummy book, I needed to create my main character. I knew I wanted his name to start with E because my son's name starts with an E. I googled boy's names and found Emet which means universal, whole and truth. I liked that and it is fitting with the message of my story.
@MakeArtThatSells posted samples of character designs on Instagram. They offer children's book illustration classes and participants would draw their character with different expressions. So that's what I did. Later, I watched a SCBWI digital workshop by Vashti Harrison and she did the same thing.
In addition to drawing different expressions for the character, Vashti drew the whole body of her character at different angles. She also gave the character different accessories to show personality.
I found the explanation of how to draw kids on this blog very helpful: Tips for Drawing Child Characters
I also look at the proportions of the characters in picture book that I like to figure out the proportion of my character.
This was my original character design of my character Emet: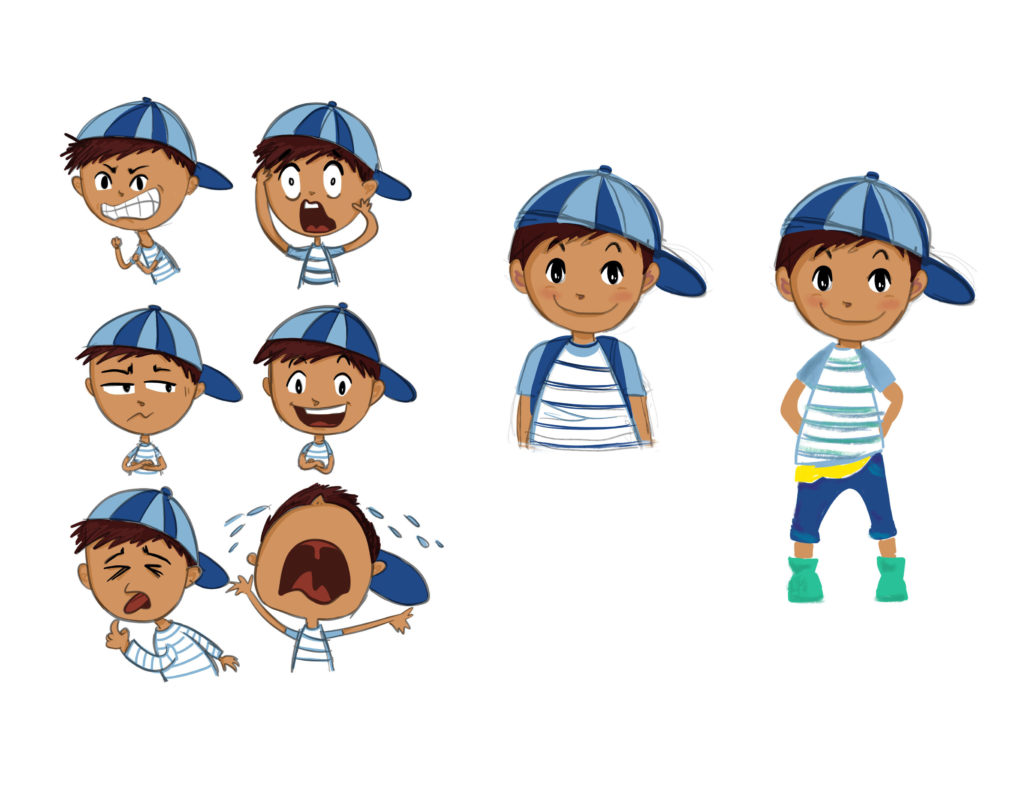 When I started working on my refined dummy book, I kept on drawing a different looking boy for some unknown reason.
After signing the publishing contract, I had about 12 months to finish my illustrations. It was a really good thing for me to have this much time as it is my first picture book and I really needed the time to learn. After I finished the full-colour illustrations after 8 months, my publisher and I talked about the ethnicity of my characters. I decided to darken the hair and skin of Emet and his family to represent people of color. They are immigrants just like me. I changed some of the settings to reflect my culture, what we eat, our habits, etc. When my son looked at my earlier illustrations, he pointed out that Emet shouldn't wear shoes in the house before I even thought about the ethnicity of Emet. I guess kids do pick up things like that!
So he ended up looking like this. Let me know what you think!